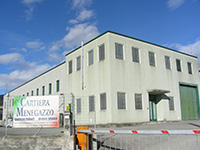 cartiera Menegazzo s.r.l.
Since 1967 we have been producing shanking board for shoes manifacturing, offering our costumers our long-lasting experience and our technologies, so as realise high quality products. Our company has specialised in the production of shank board for model-making (for clothing and forniture) with remarkable results. Trademark: tenaxite.



Our Products
Red tenaxite: this item can replace superinterite, as a matter of fact is employes by couplings to make stripes used to reinforce insoles.
Size: 106x155 cm
Thickness: 08/10 10/10
Shanck board for pattern-making available in the fallowing colours: green, red, avana brown.
Size: 80x155 cm or other size on request
Thickness: 10/10 12/10 13/10 15/10 18/10 20/10
Shank board for insoles.

Size: 106x156 cm
Thickness: da 0,8mm a 3mm
Work's arts

In order to achieve the best fibre preparation, thus exaltingits characteristics, we have been kept using mullers by long tradiction.
Our products are being made strarting from selected raw material of different sorts and origin, wich by addition of chemical substance lead to the output of high quality items, in observance of the ECLaw 76/ 769/ ecc Amendment 14.
Contact
Send a message
For further information and clarification, please do not hesitate to contact us.
We will respond as soon as possible.